Animal welfare charity Edinburgh Dog and Cat Home and Glasgow based Dear Green Coffee Roasters join SSE, abrdn and 1st Alliance Credit Union as accredited Living Hours employers in Scotland. 
The Living Hours accreditation requires employers to both pay the real Living Wage (now £9.90/hr) and commit to provide at least four weeks' notice for every shift, with guaranteed payment if shifts are cancelled within this notice period.  
Living Hours employers also provide a guaranteed minimum of 16 working hours every week (unless the worker requests otherwise), and a contract that accurately reflects hours worked.  
When Edinburgh Dog and Cat Home gained Living Wage accreditation in 2019, they uplifted more than half of their staff to the real Living Wage. They were the first animal welfare organisation in Scotland to become an accredited Living Wage employer and demonstrate leadership in an industry where front-line staff are often low paid. By committing to the real Living Wage, they recognised the skill, professionalism and expertise that is required to work with animals – particularly rescue animals. They are currently shortlisted for the Living Wage Scotland Resilience Award 2021.   
Now, by extending their Living Wage commitment to ensure secure, guaranteed working hours, EDCH are able to further demonstrate the importance they place on setting strong standards on fair work and supporting their employees.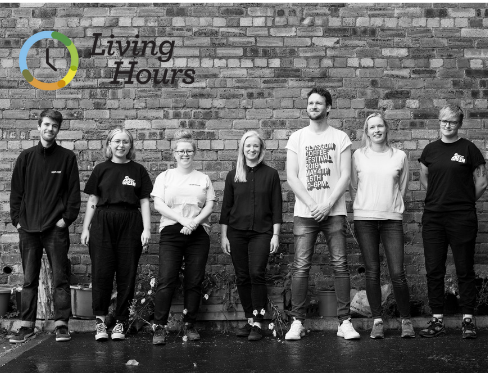 In signing up for Living Hours accreditation, Dear Green Coffee Roasters have demonstrated their commitment to doing business better and doing right by their employees. They have paid the real Living Wage to every employee since being founded in 2011 in Glasgow. Paying the real Living Wage was important to the overall ethos of Dear Green Coffee Roasters.  The hospitality industry is the only industry where the majority of workers are paid below the real Living Wage. Dear Green Coffee Roasters is part of over 100 employers in the hospitality industry who recognise the importance of paying a fair day's wage for a hard day's work.  
Their Living Hours accreditation fits within their broader ethos of being a force for good within the hospitality industry.  They believe that investing in their team is an investment in the company's future, and that using business as a force for good is positive for all. 
Research published this year by the Living Wage Foundation showed that 11% of workers in Scotland are in insecure work and paid below the Living Wage. This is approximately 300,000 workers.   
EDCH and Dear Green Coffee Roasters are the first employers to benefit from the Scottish Living Hours accreditation scheme. The scheme was launched in July 2021 to increase the number of Scottish employers recognised for offering Living Hours alongside a real Living Wage. It is delivered through the Living Wage Scotland programme at the Poverty Alliance, and funded by the Scottish Government. 
 Lindsay Fyffe-Jardine, Edinburgh Dog and Cat Home CEO said: 
"Becoming a Living Hours employer is a proud moment for us as at Edinburgh Dog and Cat Home as we have always believed in our team being guaranteed good standards of hours they will work.  
We understand this is essential to help them plan both their finances and their personal lives, ensuring a better work life balance. We know that a thriving and valued staff team push forward our mission and make us the best that we can be, ultimately ensuring we can be there for pets and their owners in crisis across East and Central Scotland." 
Lisa Lawson, Founder of Dear Green Coffee Roasters said: 
"Having been accredited a Living Wage employer for as long as it's been possible it made complete sense to be on board with the campaign to promote Living Hours from the outset.  
At Dear Green we want to offer the best employment experience and to share these values as our positive contribution to systematic change and to better working practices for all.  Everyone deserves to be paid enough to live on and to be respected with contractual employment that represents fairness, transparency and security." 
Minister for Just Transition, Employment and Fair Work Richard Lochhead said: 
"It is fantastic to see our first employers become Living Hours accredited so soon after the launch of the Living Hours Accreditation Scheme in Scotland. I congratulate Edinburgh Dog and Cat Home and Dear Green for building on their Living Wage Accreditation in this way.  
 Working with the Poverty Alliance, and the network of over 2,400 committed Living Wage Accredited Employers, Living Hours will help to alleviate in-work poverty and create more secure, sustainable and satisfying jobs that pay a real Living Wage.  
 I encourage businesses across Scotland to look at the scheme and, like Edinburgh Dog and Cat Home and Dear Green, sign up to become Living Hours accredited." 
Christine McCaig from Living Wage Scotland said: 
"There are over 2400 Scottish-based employers that are committed to paying at least the real Living Wage, and it's fantastic to see Edinburgh Dog and Cat Home and Dear Green take additional steps to protect their workers from low pay and insecure work by becoming Living Hours accredited. 
The values that led them to commit to the real Living Wage are the same values that have led to their expanded commitment to fair work at a time when workers need it most."