Background 
GavHas Services  is a complete service company providing first class property management for social housing in Scotland, alongside a comprehensive removal and maintenance offering for private clients. GavHas Services started as a humble, family-run business that consisted of a sister, brother, and best friend offering a local man-and-a van service which soon progressed into much more.  
Before they knew it, they supplied local councils and housing associations with furnishings and five-star cleaning services.
As a result of this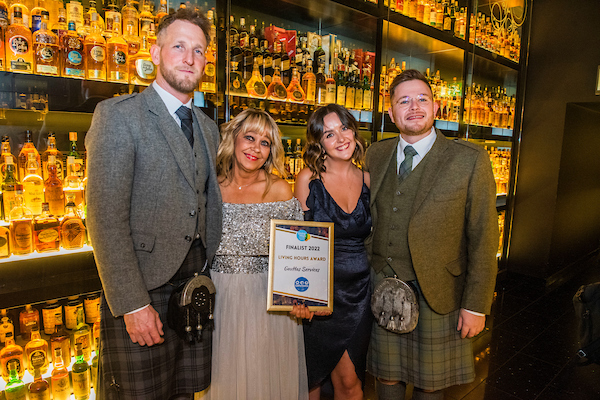 progress, they have been able to provide their employees with numerous benefits, including fully paid maternity and paternity leave, funded therapy when required, comprehensive training with options to have funded further education, and of course, Living Hours alongside a real Living Wage. Their commitment to the real Living Wage and Living Hours led to them become finalists in the 2022 Living Wage Scotland Awards. 
Accreditation Process 
Soon after GavHas Services was formed they contacted Living Wage Scotland to pursue Living Wage accreditation. Their Operations' Director Gavin was motivated to commit to paying the real Living Wage because of his personal experience of growing up in a low-income family. He understood the difference that being paid a real Living Wage could have on someone and made it a priority to become a Living Wage employer. 
"Being paid the real Living Wage really helps me provide for my family and takes away the financial worry allowing me to have more disposable income at the end of the month." 
Jennifer Caskie, Facilities Officer at GavHas Services. 
They found the process straightforward and were "impressed by the communication skills and attention to detail of the real Living Wage team."  
In June 2022, GavHas Services took the decision to become Living Hours accredited because when creating the business Gavin had set out to create a "fair and flexible work environment."  They became aware of the Living Hours initiative and as it turned out, they already met the criteria, so it was a "no-brainer" to become recognised as a Living Hours employer. 
The Living Hours accreditation requires employers to both pay the real Living Wage and commit to provide at least four weeks' notice for every shift, with guaranteed payment if shifts are cancelled within this notice period. Living Hours employers also provide a guaranteed minimum of 16 hours every week (unless the worker requests otherwise), and a contract that accurately reflects hours worked.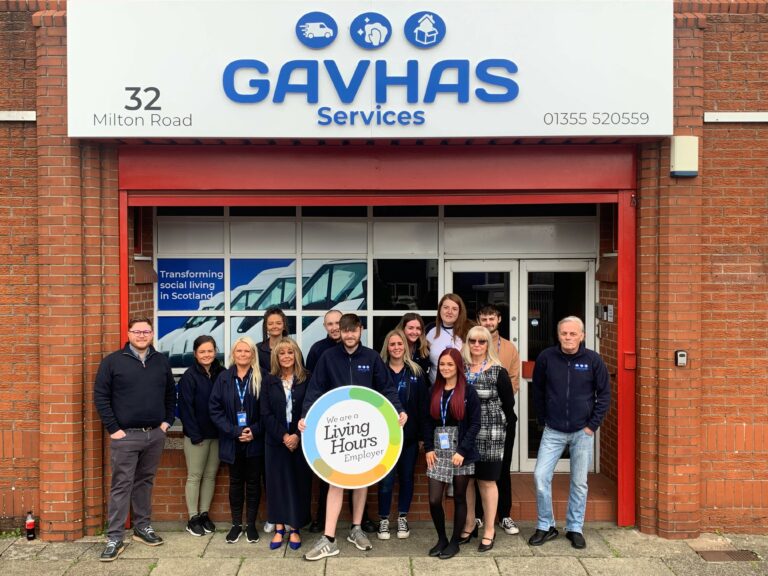 "At GavHas Services, we are all too aware of the rising living costs that are affecting the world. Our staff consists of parents, family members, and people we now call family, and we want to provide everything we can to make sure that they all stay afloat. We believe that the Living Wage and Living Hours program are a moral obligation, and we urge all businesses to adopt these standards." 
Gavin Ampleford, Operations Director at GavHas Services
Benefits 
GavHas Services believe that the real Living Wage provides a wealth of benefits, the main one providing their employees with some peace of mind.  
 "Many of us have been in a position where they worry about how they're going to pay off our bills or how they're going to find money for our next meal. It's truly a degrading experience so the fact that we can mitigate it by providing the real Living Wage is a big plus." 
Gavin Ampleford, Operations Director, GavHas Services  
Guaranteeing payment of the real Living Wage delivers a happier workforce and this combined with security of hours reduces stress and allows them to have a greater work life balance.  
"Previous employment was always minimum wage with long hours. My ability to work less with more flexible hours without struggling has been helpful to my mental health and personal life regarding being a single parent."  
Justine McNally, Employee at GavHas Services 
GavHas Services has found that their commitment to the real Living Wage and Living Hours has led to increased retention and motivation of staff. 75% of accredited Living Wage employers say that paying the real Living Wage has increased employee motivation and retention rates. 
"Being paid the real Living Wage and having security of hours means a lot to me because it provides me with financial security. It has allowed me to do things I want to do outside of work. For example, I can now travel a lot more. During work, it gives me peace of mind and motivates me to perform at the best of my ability." 
Steven Nimmo, Procurement Officer at GavHas Services 
You can access a pdf version of this profile here.