Prickly Thistle; weaving the way forward on fair pay
The Business
Prickly Thistle, an artisan tartan design and textile brand, began as an initiative to bring back tartan weaving to the mainland Highland region of Scotland.
It was established almost five years ago by Clare Campbell, a trained chartered accountant, who was passionate about bringing the weaving tradition back to life in the area.
The company can create individual bespoke tartans up to complete bespoke product collections made in-house for clients from the fabrics they weave. The tartan designs are also given the stamp of approval of the official Scottish Register of Tartans held by General Register House in Edinburgh, part of the National Records of Scotland.
A recent Prickly Thistle commission was to design a 'sustainable' tartan in the iconic black and red colours to celebrate the 70th anniversary of world-famous Dundee based cartoon character by Beano Studios, Dennis.
Those at Prickly Thistle describe themselves as 'tartan rebels' with people and sustainability at the core of their values. The company champions green energy, locally sourced labour, natural fibres, recyclable packaging and has been paying staff far more than the minimum wage since its inception.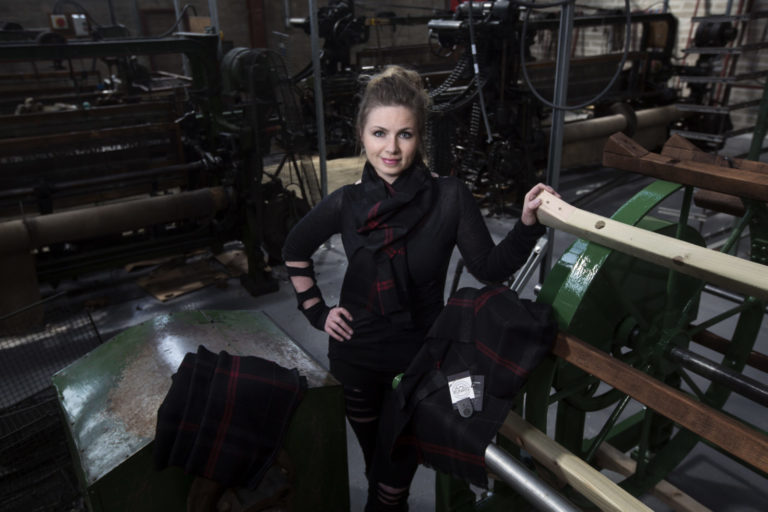 Prickly Thistle Founder and Co-owner, Clare Campbell said: "Over the last few years we have gone from one employee to 12. We are really proud to be making what we make, but also fundamental to everything is the inspiration and messaging around our values and we are very proud to be a real Living Wage employer. It's been a journey, but it's all about staying relatable, relevant and real."
With passion, Prickly Thistle is creating a new future for Scotland's iconic patterned cloth.
The Process
Prickly Thistle has always believed in paying staff what they deserve and was already paying the real Living Wage to all its 12 employees when it applied for accreditation in August 2020.
Clare added: "Our vision was to bring back tartan weaving to the mainland Highland region with its own mill, and with that create a community of 'rebels'. Tartan is about community, it brings people together. So for me it was always about paying as much as we can. It was important to get everyone on a fair footing. But I realised we needed to be a lot more open and public about our badges of honour. The process was simple and easy and took a couple of weeks. It was very straightforward for us to evidence what we were doing."
The Benefits
Employees are at the heart of the company and they are encouraged to voice their opinions on the direction of the business during regular meetings.
Prickly Thistle also has a community and civic engagement policy and has set up a 'Rebel Fund' for students at the University of the Highlands and Islands.
Clare continued: "People recognise what it means. Being a real Living Wage employer is a badge of honour for us. We realised we needed to be strong about things we are doing. For us it was about going with organisations that had integrity. If you show your team how much you respect and value them, then you will be treated the same, it makes for a fair and fun place to be."
It is clear that not only do employees feel valued, earning the real Living Wage makes a tangible difference to their lives.
Fiona Stephenson has been a sewing machine operator with Prickly Thistle for 18 months.
She explained: "It's good for the employees to feel they are being valued as individuals. Everyone here has a chance to talk about their needs. It is not just from the financial point of view, it is being appreciated for the person you are. Strengths and potential are also a focus and it's such a positive place to be."
Advice for other businesses
Clare concluded: "Having worked in other places for varying pay rates, I know that the highest salary does not always create the most satisfied and respected employee, so we do many other things, it's not just around pay structure. Coming to work should be fun.
"My advice to other employers is, well, it's a question. I say, why not? At the end of the day when you think about the cost of living in a conscious, responsible way, you really need to help your local community, your workforce, their families, be part of that change we see globally for the future. It's showing respect for your employees and for future society."