Rationale is a brand purpose and content marketing agency who, using creative delivery, work with organisations across the globe and across sectors to meet their needs. The business was founded in 2019 by Rowan Morrison and Svein Clouston who firmly believe that, in order to do their best work, employees should be valued and encouraged to reach their full potential.
Rationale work with clients to understand their reason for being and to communicate that to their audiences in a way that resonates. In order to cultivate an environment where diversity of thought and creativity is supported, it is important that staff members feel secure. From the outset, Rationale wanted to acknowledge how valued their team were and paying a wage that meets their needs is integral to that.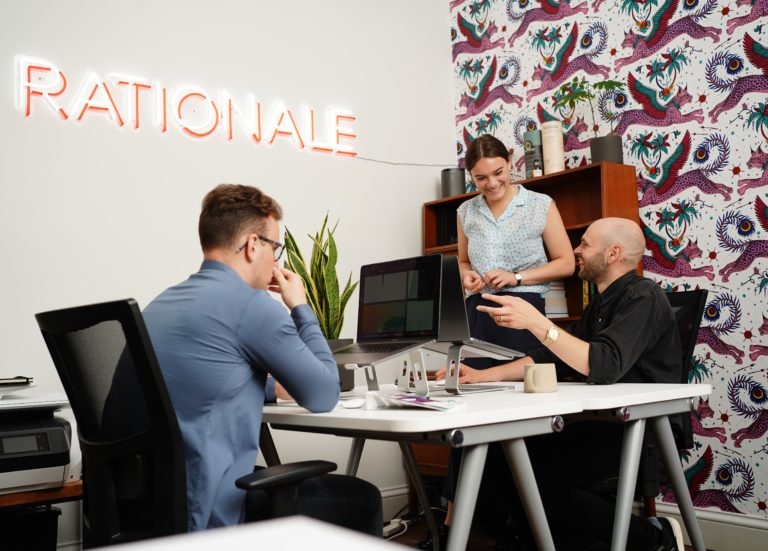 The real Living Wage is the only independently calculated rate based on what people need to live on. Rationale have paid the real Living Wage as a minimum since their inception and they also offer flexible working, paid time off to volunteer or pursue a personal project and generous professional development and personal development opportunities.
"It's so important to us that we put our employees first – as no one can do their best work if they're not working in an environment that encourages them."  Jayne Watson, Account Director
The Process
By adopting the real Living Wage rate at the outset, Rationale demonstrated their intention to pay a fair wage. The natural next step was becoming an accredited employer and helping to grow the Living Wage movement in Scotland.
"We were put in touch with one of Living Wage Scotland's helpful team members who talked us through our accreditation and what it means." Paula Campbell, Strategy Executive
Rationale found the process of becoming accredited incredibly straightforward. There were no challenges in implementing the real Living Wage as the business had been set up from the beginning to pay all employees fairly. Each employer is personally contacted by a member of the Living Wage Scotland team after completing the online form to ensure they are compliant and that they are comfortable with all aspects of Living Wage accreditation. Following this process, employers receive their official plaque along with other Living Wage merchandise to help them publicly display their commitment.
The Benefits
Rationale believe that paying their team the real Living Wage will be beneficial to both their employees and the business. The real Living Wage, a rate based on the cost of living, contributes to a better quality of life by reducing money worries and allows people to thrive, not just survive.
"Rationale's team is our most important asset – they make us who we are and embody our purpose-driven approach to work. We see being a Living Wage Employer as a visible and meaningful way to demonstrate our commitment to them." Rowan Morrison, Managing Director
In recognising the value of employees and their contribution, employers can expect to see increased levels of motivation and morale. Being a responsible employer is important to Rationale and they strive to cultivate a positive working environment where people feel valued and supported. Research has shown that workers who feel more valued and included are more motivated and dedicated to their employer.
"We believe that paying our employees fairly allows them to feel we recognise their contribution to Rationale – their time, energy, knowledge and skills." Paul Saag, Creative Director
As early adopters of the real Living Wage, regardless of role or age, Rationale recognised the benefits from the beginning of their journey and were able to retain staff who felt appreciated and repaid the business with their loyalty and commitment.
"The first person we brought in to work with us was a graduate intern. We paid her the real Living Wage from her first day with us – now she's a full-time employed Strategy Executive!"  Rowan Morrison, Managing Director
Alongside allowing their people to thrive, Rationale believe it makes good business sense to pay a real Living Wage. It enhances their reputation and shows the talent marketplace the type of organisation they are and what to expect, allowing them to attract the best applicants for the role.
By becoming officially accredited, Rationale are setting an example in their field and demonstrating to current and potential employees that they can expect to be paid fairly which gives staff security and stability. This investment in their people is a clear and public signal to both employees and clients.
"We spend most of our time talking about and supporting our clients to understand what their purpose is and develop and implement purpose-driven strategies. So it's crucial that we walk the walk. Being a Living Wage employer is one way we can prove we are doing so." Jonathan Gilbride, Graphic Designer
Advice to other employers
Rationale hope to lead by example and encourage other employers to become accredited. They found the accreditation process extremely straightforward as employers already paying a real Living Wage and it allows them to demonstrate a public commitment to their people. The team at Living Wage Scotland are also on hand to advise employers who aspire to pay the real Living Wage and enjoy the benefits that it brings both to their organisation and their people.
"We want to be a part of building momentum and influencing other organisations to commit to paying their employees the real Living Wage so that inequalities associated with low pay can be levelled." Svein Clouston, Strategy Director
Too many people are at a disadvantage due to the fact they do not earn enough money to sustain themselves and their families. The pandemic has proven a stark awakening for many, highlighting societal inequalities and forcing people in some of the most underpaid professions to work in incredibly risky environments.
"We believe these workers have always deserved remuneration and to be valued for the work they do, but after a pandemic where they kept us going, the case for the Living Wage has grown immensely and low-wage workers deserve recognition more so than ever." Paula Campbell, Strategy Executive
Rationale believe every person deserves to be treated fairly and valued at work, and paying  employees the real Living Wage or above is one way of proving this and contributing towards building a fairer society.
"Rationale exists, with the work we do with clients, suppliers and partners to make a positive impact on society. Being a real Living Wage Employer is an important part of that." Svein Clouston, Strategy Director