The Redshank Catering Co: locally sourced seafood and staff
The Business
Redshank Catering is a mobile seafood catering business based in Inverness. Using locally sourced seafood and produce, it offers freshly cooked meals from its mobile trailer in various locations in and around the city.
Redshank Catering was set up in October 2018 by husband and wife team, Jamie and Ann Marie Ross, and now employs six part-time members of staff. Established as an outside catering company supplying quality food to events, weddings and parties, Redshank Catering has grown despite the restrictions imposed during the COVID-19 pandemic, due to its focus on street food and outdoor locations.
In August 2020, investment in a unit on an industrial estate allowed the owners to move food preparation out of their home and create a production kitchen where they now store and prepare their menus. This new operations base also allowed them to employ back-of-house staff and gave them somewhere to store the Redshank trailer.
The couple have both worked in the hospitality industry for many years and know from experience that it is often low paid. From the outset they agreed that, when they could afford to pay their staff more than the minimum wage, they would.
Jamie said: "It was a given for us because we'd spent so many years feeling a bit unappreciated by bigger employers. So, as soon as the business could afford to pay the real Living Wage, we knew it was the avenue we would take."
The Process
As a small family business, the Ross' manage all of the company administration themselves. They were concerned that there would be a substantial amount of paperwork required to gain Living Wage accreditation, but were pleased to discover that it was completely manageable.
Jamie summarised the process: "You need to provide certain pieces of information and sometimes you don't have it to hand, but once we'd got it all together it didn't take too long."
For Redshank Catering, the assistance provided by the accreditation team at Living Wage was very helpful.
Jamie continued: "We're really social media driven for the business and the Living Wage team were really good with providing social media support. They did a couple of posts on Twitter and Instagram and a bit of a write up about Redshank. We thought it was a nice welcome to being part of the Living Wage organisation."
The Benefits
Jamie and Ann Marie are passionate about what they do and have a company ethos that minimises food miles, focusing on locally sourced seafood of the highest quality. Their approach to staffing matches their approach to food.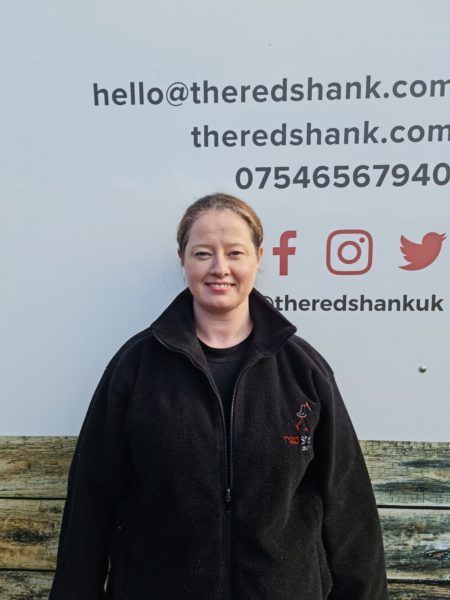 Ann Marie explained: "We'd like people to work for us because it's a career choice and they share our passion. We want our staff to earn money that they can live off and not choose us because it's a job to tide them over until they find something else."
The couple are disappointed that paying the real Living Wage instead of the minimum wage is not the norm in the hospitality industry. Redshank Catering has reaped the benefits in the form of happy, positive staff who are willing to go the extra mile when required.
Ann Marie added: "You pay your staff what they're worth. Not only do they feel valued, but you get loyalty in return. So when they go into work, we want them to feel that it's a really good place to be."
Redshank Catering employee, Aileen Mackintosh, acknowledged the difference the Living Wage made to her quality of life, allowing her to set money aside for things that she previously could not have afforded. She recognises that she is working for a small business and appreciates the effort her employers have made to achieve Living Wage accreditation.
Aileen said: "When you're working for a small business you know that they're giving you that extra bit and they don't need to. It encourages you to give more to the job and makes you feel valued as an employee."
Advice to other employers
Redshank Catering is still a young company and the owners have ambitions to continue to grow the business. They feel that having Living Wage accreditation is something other fledgling businesses should consider.
Jamie explained: "We've now expanded but we can't continue to expand without the staff that are going to help us build our business. I think a little appreciation in the form of the real Living Wage for helping us to be bigger and better is a bit of a nod to say thank you, you're part of the team, you're not just an employee."
The Ross' would like to see a change in attitude towards pay from employers in the hospitality industry.
Jamie pointed out: "It is a very positive thing to do for your staff and I think it showcases what good it can do for your business and staff members. Every business is different and you have to look at the numbers, but if you're in the hospitality industry I think it should be a given to pay the real Living Wage."
Aileen concluded: "If it's something that you have the ability to do then do it because you're going to get more from your staff. They will appreciate it and they will go the extra mile. If you've got staff that aren't worried about their finances outside of work, then they're going to be less stressed in work. It makes a difference in your day to day life."