Since Virgin Hotels opened its first location in Chicago in 2015, it has made its way into four other U.S. cities. Virgin Hotels Edinburgh and Glasgow are the company's first ventures outside of the United States. Virgin Hotels Edinburgh opened its doors in June 2022, and the Glasgow property will follow in December. Virgin Hotels has been an accredited Living Wage employer since April 2022.
Adam Gray, Regional Director of People, Scotland noted that as an organisation, Virgin Hotel's mission is that "Everyone leaves feeling better – including our teammates".
Their company ethos of doing good for people and the planet has led Virgin Hotels to offer employees a package of benefits that incorporates generous family-friendly policies including enhanced maternity, paternity and adoption leave packages. The package also includes a membership to 'borrow my doggy', access to shopping and lifestyle discounts, a day off for the team member's birthday, and free meals.
"As a company that puts our people first, it is important for us to make sure that every employee's wage is fair and allows them to live comfortably."
Adam Gray, Regional Director of People, Scotland
Being an accredited real Living Wage employer is part of the company's commitment to offering a fair wage to their teammates and continuing to do so in the future.
"To me, the real Living Wage means that we are finally acknowledging that people simply cannot survive on the minimum wage. With the cost of living rising, it should not be seen as a luxury for people to be able to pay their bills, this should be the norm and the real Living Wage is helping to work towards that."
Meghan McGuiness, People Manager
The Process
Virgin Hotels decided to become an accredited Living Wage employer before they started hiring hotel staff. They pursued accreditation at this stage because they wanted to ensure that everyone employed by Virgin Hotels received the real Living Wage or above from day one.
They wanted the employee package to take care of their employees, from health and wellbeing to financial rewards. Therefore, it was important for them to include a fair wage alongside the other employee benefits.
"The real Living Wage has always been important but more so now with the changes we have seen to the cost of living. It is imperative that employees know that any further impact seen in the coming years will be reflected in the wages they receive. As a company, we need our teammates to be confident that we are going to meet the requirements of this accreditation and that they will always receive a fair wage."
Adam Gray, Regional Director of People, Scotland
Virgin Hotels found that the process of gaining accreditation was very straightforward throughout, from their initial conversations with the Living Wage Scotland team to completing their application.
The Benefits
Recruitment and retention continue to be a challenge for the hospitality sector and paying a real Living Wage can attract quality staff.
Virgin Hotels anticipate that increases in staff morale and retention will be a significant benefit of their accreditation. 75% of accredited Living Wage employers say that paying the real Living Wage has increased employee motivation and retention rates.
"I'm delighted we are offering the real Living Wage as hospitality has a history of offering the bare minimum. Now hopefully people are able to work in an industry they love and not have to live with the extra pressures of a second job or working so much they don't see their family or loved ones. And for us, we are able to keep people on the team and help them grow and develop."
Tom Gibson, General Manager, Virgin Hotels Glasgow
"The impact of working for a Living Wage employer is massive as I will no longer need to work extra hours to be able to make ends meet, giving me a great work-life balance and having an impact on my health and happiness, I also believe that my employer will benefit from having a more engaged and healthier team."
Victor Perea, Bartender, Virgin Hotels Edinburgh
As a new business being Living Wage accredited has provided Virgin Hotels with a significant advantage during the hiring process.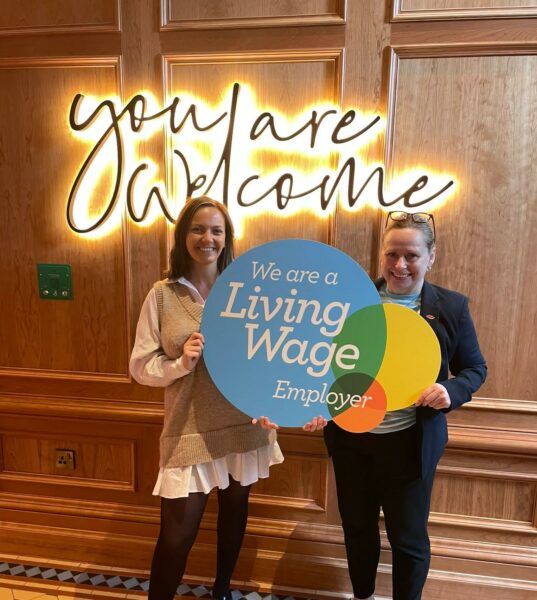 "I am proud to say that I work for a company that offers the Living Wage. In the hospitality industry, we really expect people to give their all and to have a strong passion for what they do, and the minimum wage definitely does not cover these efforts. Not only has this boosted the team morale but it is also a great advantage to us when advertising positions and attracting candidates."
Meghan McGuiness, People Manager 
Virgin Hotels are proud of their commitment to paying a fair day's wage for a hard day's work. They view paying the real Living Wage and above as an integral part of ensuring their teammates have the best experience working for them as possible.
"For me, it means we pay our team, as a minimum, in line with the expert's advice– the Living Wage Foundation and Living Wage Scotland. We cannot expect teammates to live day to day, on the minimum wage set out in legislation. I am proud to be an organisation that promotes the Living Wage to others and guarantees this to our teammates."
Scott McArdle, General Manager, Virgin Hotels Edinburgh.