Woodland Outdoor Kindergartens was founded in 2009 by friends, Alison Latta and Debbie Simmers. The pair met in primary school and have fond memories of playing outside together as children, exploring the gardens and woods of the nearby areas. Alison and Debbie both  have families of their own now but have stayed close friends since childhood.
As young parents, the two were keen to find childcare options that allowed their children to spend time outdoors, while also building resilience and confidence. However, at the time, this type of outdoor childcare was not available in Glasgow. Alison and Debbie began exploring the idea of starting their own nursery, based on European examples of nature kindergartens, which they had come across in their research. After months of planning, the duo established their first nursery on the South side of the city, based in Pollok Country Park. Over the past ten years the nursery has grown, and Alison and Debbie now manage two sites with around 150 children across them.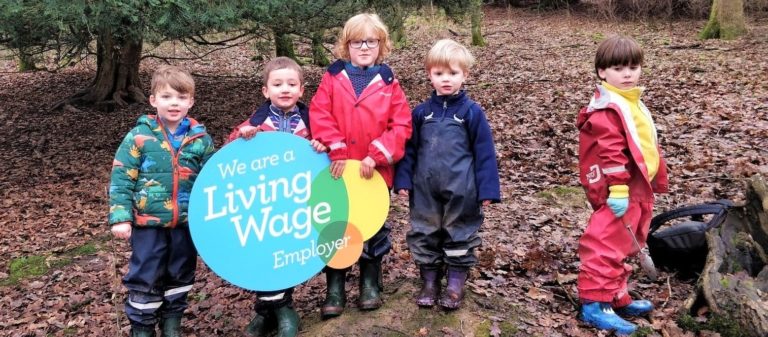 From the beginning, Debbie and Alison felt that employees at the nursery should be paid a fair wage for the valuable work that they do.
"We felt it was wrong that nurseries were seen as minimum wage organisations. We were looking for high quality individuals, who would build strong relationships with the children and their parents, and we wanted to show them that we value their work."

Debbie Simmers, Founder
As the nursery grew more profitable, the wages for the staff also increased. In 2018, following an enquiry from a parent, Debbie and Alison made the decision to become an accredited Living Wage employer.
"We received an email from a parent who asked if we were Living Wage accredited and It made us wonder about how we could lift all our staff to that wage level."

Alison Latta, Founder
While paying the real Living Wage was important to Debbie and Alison, they did initially have concerns about the impact on existing pay scales. Although implementation of Living Wage to junior staff did initially lead to narrowing differentials, the staff accepted this as part of a process that would benefit the whole team in the long term. According to Debbie, since accreditation, they have also experienced lower staff turnover and thus lower costs for recruitment and training of new employees.
"Before, when our staff turnover was a lot higher, it was a drain on our resources because we would have to pay for new uniforms, training and PVGs. Now that staff stay with us longer, we have lower costs and we can offer that expertise and high quality of care."

Debbie Simmers, Founder
Not only has accreditation been great for ensuring staff continuity, but it has also allowed parents and childcare practitioners to build stronger relationships and shows parents that staff are being treated fairly.
Debbie told us that the rise in wage levels has also given staff the option to work fewer hours, which has improved their overall work-life balance and allowed employees to take on other responsibilities such as studying.
Depute Manager, Sarah, explained to us how higher wages and fewer hours can have a practical impact on the quality of childcare.
"It makes you a much better practitioner because when you work with children you need to be alert and have a lot of patience. If you're working so hard that you can't take time out to relax, you will be coming into work drained and you won't be able to do your job properly."

Sarah Curran, Depute Manager
While there may not be time to bask in all their successes, such as winning Newcomer of the Year at the Living Wage Scotland Awards at the end of 2018, the team at Woodland are looking forward to whatever the future brings.
"I'm proud to be working here and for a living wage employer, I'm always bragging about it. It's such a privilege to be working with children and seeing them grow up. Working outside is great for your mental health too."

Sarah Curran, Depute Manager