Adhesive and film manufacturer FLEXcon was established by the McDonough family in 1956 in Massachusetts. The firm has grown over the last 60 years to now turn over approximately $300 million worldwide.
Working within a variety of sectors, they serve all aspects of the automotive, pharmaceutical and electronics industries. FLEXcon's core focus is the coating of filmic materials with pressure-sensitive adhesives, adapting products and processes as necessary to solve any user problems.
Their vast range of films and knowledge of applications allow them to tailor-make products for each unique application, from chemical resistance for lab diagnostic labelling and flexible, breathable films designed to be worn on the skin, to moisture and UV barrier properties for encapsulating and protecting electronics.
The company's European arm, FLEXcon Europe is headquartered in Glenrothes, Scotland and their vision is to become the world leader in innovative coated solutions, all while keeping the planet at the forefront of their plans.
As well as focusing on minimizing environmentally adverse operations, FLEXcon places great emphasis on valuing their most important asset, their people. The company provides employees with a range of benefits, including flexitime, a workplace wellness program, cycle to work scheme and a service award recognition every 5 years.
FLEXcon is also part of the Healthy Working Lives award programme, which aims to improve the health, safety and wellbeing of workers in a structured and productive way.
When Stephen Hall became Managing Director in 2017, he hoped to further support the work of the team by introducing the payment of a real Living Wage.
"I've wanted to implement the Living Wage for some time and in 2019 the senior management team discussed and agreed it was the right thing to do for the business and our employees." – Stephen Hall, Managing Director
The Process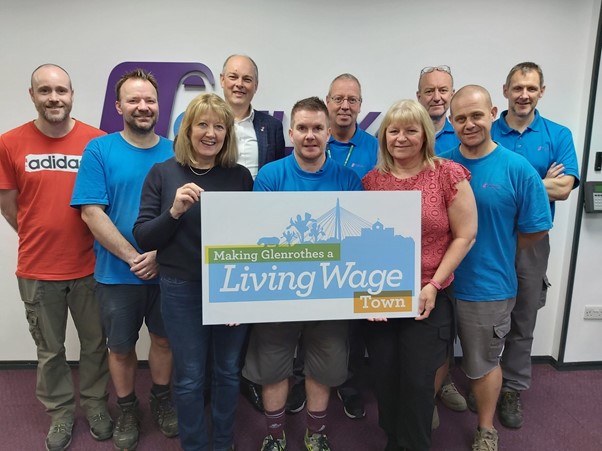 Following the management team's approval, FLEXcon worked with the Glenrothes Living Wage Town Action Group to complete the application process.
The Action Group are a partnership of employers promoting Living Wage to businesses across Glenrothes, which in 2019 became the first town in the UK to be awarded recognition for their plan to become a Living Wage Town.
Action Group partners include Fife Council, Fife College, Fife Voluntary Action as well as a number of local private businesses. Since 2019, the number of accredited employers has risen across the area and there are now 81 accredited employers in Fife, with 21 based in Glenrothes.
Overall, with the help of the Action Group, FLEXcon found the accreditation process simple and straightforward.
"It was not a difficult job to bring our employees in line with the Living Wage. We had to readjust our starting rate and address a few newer employee's rates of pay."  – Stephen Hall, Managing Director
Stephen also believes that this adjustment in pay structure will help with recruitment in the future, as higher wages enables the company to attract the right candidates for each new position.
The Benefits
Like many other employers, FLEXcon Europe recognise that the payment of a real Living Wage is good for both their employees and the business. Payment of a fair wage, based on the real cost of living, has resulted in increased productivity and motivation, which ensures a positive customer experience.
"Introducing the Living Wage at FLEXcon Europe is the right thing to do for our co-workers. It is a long-term investment in our people based on our values and our belief that a team with good compensation and working conditions are in a position to provide a great experience to our customers." – Stephen Hall, Managing Director
Becoming an accredited Living Wage employer has also helped FLEXcon's employees feel valued and respected for their contribution and hard work. Stephen believes payment of the Living Wage will help companies with increased productivity, increase morale and lower sickness absence. It also ensures employees are paid a fair wage for the work that they do and have a realistic wage to live off that makes them feel valued and respected.
The Real Living Wage not only benefits workers and the business directly. Stephen also believes that the 'Making Glenrothes a Living Wage Town' initiative can have a wider positive impact on the local community by enhancing the reputation of the area. Becoming a Living wage town will help build a reputation for Glenrothes being a good place to work and live.
The accreditation has also been welcomed by the team at FLEXcon who see this as an investment in the workforce.
"FLEXcon look after and care about their employees and trust them to make a good product for our customers." – FLEXcon Europe employee